General Practice is facing a tidal wave of pressure right now. Figures from the BMA suggest that in February 2023 there were 2,087 fewer fully qualified GPs than in September 2015 and little sign of this trend reversing. To add further perspective, this means that a single GP is now responsible for 2,286 patients, an increase of 348 (+18%) over the same period.
The Royal College of General Practitioners highlights that currently this shortfall is being picked up by GPs who are going above and beyond to support their patients. They cite that in October 2022, a record 36.1m appointments were made, with 40% of those delivered on the same day.
However, this is clearly not sustainable and change. Firstly, Central Government needs to fix broken recruitment and retention strategies and revisit funding.
Secondly, it's worth highlighting that there are a number of ways to access Primary Care outside of a GP Surgery which can alleviate pressure and result in better outcomes for all.
Seek advice from a pharmacist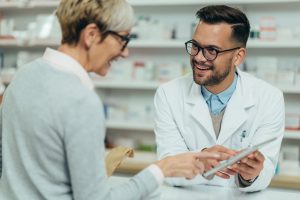 Pharmacists can offer clinical advice and medicines for a wide range of minor illnesses, including coughs, colds, aches, pains, tummy trouble, sore throats and more.
Many pharmacies are open late into the evening and at the weekend, and don't require you to book an appointment before arrival. If you're concerned about privacy, most will have a private consultation room where you can discuss your health with them.
Of course, if symptoms suggest something more serious they might still suggest booking an appointment with your GP or other healthcare professional.
NHS 111 / 111 Online
For 24 hour health support and advice NHS 111 is available online and telephone.
Both options will prompt you to answer a series of questions regarding your symptoms before telling you which action to take next. In many instances, this signposting service will suggest another service other than General Practice to better solve your issue.
Additionally, it's worth highlighting that NHS 111 services can help you get an emergency supply of regularly prescribed medicine and offer support regarding dental problems including accessing emergency care and accessing your nearest service.
Visit a Walk-in Centre
Most walk-in centres are open 365 days per year and offer advice and treatment for minor illnesses and injuries without appointment.
Services include help with minor infections and rashes, stomach upsets, minor cuts and bruises, strains and sprains, coughs, colds and flu-like symptoms.
Find your nearest Walk-in Centre.
Visit an Urgent Treatment Centre
Whilst UTCs are often an alternative to Secondary Care / A&E visits, they provide a range of services which again could reduce pressure on General Practice. They can help with things like broken bones, wound dressing, breathing problems, vomiting and diarrhoea, fevers, mental health issues and many other services also provided by a Walk-In Centre.
UTCs are overseen by Doctors (sometimes GPs) working together with nurses to provide care. They are able to diagnose many of the issues that someone might think to go to A&E for and can even perform ECG, X-Ray and take blood tests.
Find an Urgent Care Centre near you.
Call your local Urgent Mental Health Helpline
You can find your local Urgent Mental Health Helpline on the NHS website. Services are available 24/7 and will be answered by a mental health professional in your area. They will discuss your current mental health needs and provide access to further support as required.